Home » Air Conditioning »

Amana Equipment
Bayonet Recommends Amana AC and Heat Pump Systems
When you're considering replacement your heat pump or air conditioning system, you're contemplating a major purchase. Many homeowners don't realize that any brand can be installed improperly leading to problems with the system, hampered efficiency, and even a shorter than normal life span for the equipment. Choosing your contractor is the most important consideration! Since you're here, congratulations on choosing Bayonet Plumbing, Heating, and Air Conditioning to replace your air conditioning equipment, you will be so glad that you did. We are proud of our people, and it is our quality that makes the difference in your installation. The service after the sale, from quality control to warranty service, is friendly, on–time, and proficient.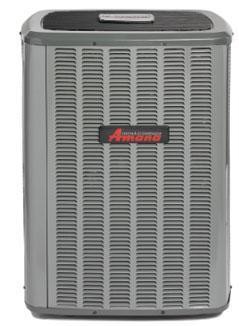 We are proud to offer the Amana line of air conditioning systems. Amana is truly an American company, based in Houston, Texas. All of their systems are manufactured AND assembled in the USA. Not every brand today can say that! We will cover some features further in this article, but let's begin with the warranty for the ASZ14, ASZC16, and ASZC18 models: the factory provides a 10–year part warranty and 10–year labor warranties are also available. Amana, however, offer a warranty distinction that no other company parallels: a LIFETIME warranty on their compressor. That's right: an Amana may be the last air conditioner or heat pump you ever have to buy. For as long as you own your home, if your compressor ever fails, Amana will provide a new condensing unit (not just the part, but the whole outdoor unit for a split system)!
The ASZC16 and ASZC18 offer other great features as well:
ComfortNet Communications System compatible
R–410A chlorine–free refrigerant
Two–stage Copeland® UltraTech scroll compressor
SmartShift™ technology with short–cycle protection
Factory–installed suction line accumulator
Expanded ComfortAlert™ diagnostics built in
Set–up capable with two low–voltage wires to outdoor unit
Compressor short–cycle protection
Diagnostic indicator lights and storage of six fault codes
Factory–installed compressor crankcase heater
Color–coded terminal strip for non–communicating set–up
Factory–installed filter dryer
Factory–installed high–capacity muffler
Two–speed quiet condenser fan motor
The Amana ASZ14 system offers ratings up to 15 SEER and these great features
High–efficiency scroll compressor
R–410A chlorine–free refrigerant
SmartShift® technology to ensure quiet, reliable defrost
Factory–installed suction line accumulator
Factory–installed compressor crankcase heater
High–density foam compressor sound blanket
Amana brand sound control top for quiet operation
Factory–installed filter dryer
High– and low–pressure switches
Two–speed quiet condenser fan motor
Long–lasting Amana brand quality and durability
AHRI certified; ETL listed
Be careful of imitators! Some brands are offering "lifetime" or 10–year compressor warranties but are only replacing the part and not the whole outdoor unit. Note that the "Disctintions by Amana" line does not carry the same Lifetime Compressor warranty. There are some limits on the warranty, as well, please see the Amana website or your Bayonet Plumbing and AC representative for all limits.