Home » Water Treatment Systems »

Scaleblaster
Green Water Treatment Alternative
Technology Brings Better Solution for Water Treatment
Get Soft Water Without Salt!
Florida, and the Tampa area in particular, has many benefits. One of the drawbacks, however, is hard water. Tampa's water is chock full of material that increases its hardness and leads to scale build up. It's the culprit behind those water spots on your cars, dishes, tile, and shower enclosures. Many residents employ water treatment solutions to remove the hardness. They work! But, they also require maintenance and salt recharges. Salt can be a hassle. Between getting it, unloading it, and filling the softner (or paying a service to do it), salt adds up.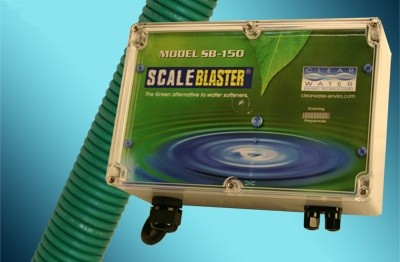 We're proud to present our customers with an alternative that's easier on your back, your wallet, AND the environment: Scaleblaster.
Virtually any equipment you have that comes in contact with hard water is costing you money. Water heaters, dishwashers, sinks, toilets, shower heads, aerators, swimming pools and laundry equipment, towels, bed sheets, etc. are all affected by hard water. Scale builds up inside your appliances and reduces the water flow. It cakes up on heating elements and robs you of the units' efficiency. The U.S. Department of Energy reports that just a ¼" of scale deposits will increase your energy bill by 40%.
ScaleBlaster is a compact, state–of–the art, computerized system that is installed on the incoming waterline of the house or building. Scaleblasters can be installed in virtually any application. They require no salt, no maintenance, and last for up to 20 years. If you have a tankless water heater, we highly recommend the installation of a Scaleblaster!
This innovative product produces an oscillating electronic field using a unique and complex modulating frequency wave form that changes the physical shape, size and charge of the calcium molecules and causes them to lose their adhesive properties.
Lime scale will no longer form in the pipes or on equipment that comes in contact with hard water. This results in the lowering of the saturation level of hard water, so that new lime scale is prevented and any existing scale is removed. The surface tension of the water is lessened, which will increase the solubility of the water, making it a better solvent.
Water will feel softer and 'wetter', and less detergents will be required. One word of caution: if you home is more than 5 years old, you will see an increase in scale residue in the system and will have to clean the aerators about 90 days after installing a Scaleblaster on your home. It will remove the residual scale, and then prevent it from recurring.
Bayonet Plumbing, Heating, and AC customers have made this such a popular item, that we're keeping them in stock in our warehouse. Typically, we can install a unit in your home the same day you call. Scaleblaster: the softener of the future can be yours now!