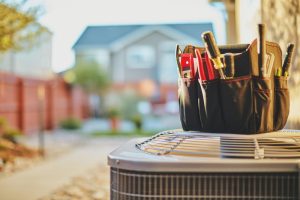 As a homeowner in Florida, you're undoubtedly well-versed in what can go wrong with your air conditioner, from weak airflow to frozen evaporator coils. Just like us, you've seen a lot of common repair needs that plague most AC systems, prompting the need for air conditioning service in Orlando, FL.
That's why we're taking the time today to go over uncommon air conditioning repairs that aren't seen as often. That way, you'll have a bit of a heads-up as to what's going on if one of these more unusual AC issues pops up.
One Mini Split Isn't Cooling
If you have a ductless mini split system, you're probably quite happy with the amazing zone control and powerful cooling it provides. However, sometimes a single air handler can stop working while the rest of them are working just fine. What gives?
The first thing to do is to check the batteries on that unit's remote. If it's not the batteries in the remote, it could be several possible issues. Each one of your mini split units has a blower fan and a refrigerant coil. It's possible that your blower fan motor can burn out or experience an electrical problem.
Each unit still connects to the primary outdoor unit. These connections pass through a set of conduits that are behind the walls of your home. The conduits include refrigerant lines, power lines, and condensate drains. Any one of these lines can sustain damage with the result being that a single mini split head stops working.
Water Damage
Water damage and AC systems are two words that don't usually occur in the same sentence. But when you think about the fact that your air conditioner works by removing moisture from your home, it starts to make more sense.
Water damage can occur because of several different scenarios. The first is the condensate line. This is how the excess moisture is drained out of your home. This line is narrow and susceptible to clogs, especially if routine AC maintenance has been neglected.
Even worse, if a water leak is near your HVAC system, it can impact the electrical system. Water and electricity don't mix under any circumstances. If water damages your AC system's wiring, it can affect how well your AC works.
A water leak can also create mold and mildew that spreads within your HVAC system. Then the spores attach to areas in your ductwork, grow even more, and blow back into your home. If your home smells musty or moldy, or if you notice visible mold anywhere, this needs to be addressed sooner rather than later.
The Outdoor Unit Is Sinking
You may notice that nearly all outdoor AC cabinets are on stone slabs. That's because without them, the unit could eventually sink into the ground. This is a problem that will immediately affect your AC's ability to cool your home. The foundation for your cabinet is critically important. If your unit cannot drain correctly, then it may not cool your home as you expect.
Contact Bayonet Plumbing, Heating & Air Conditioning to schedule air conditioning service in Orlando, FL today!