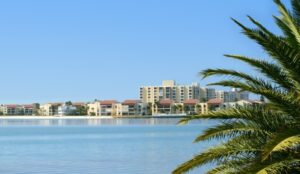 Many homeowners in Florida only live in their homes for part of the year and rent them out when they're not living there. There are also people who own investment properties that serve as vacation rentals on home-sharing sites.
When it's time to make a decision about what type of air conditioner to purchase, sometimes you need to take into account the people who'll be renting out your home.
There's nothing that can hurt a property on a rental site like a bad review that mentions a poorly functioning, inadequate air conditioner–especially in Florida. Let's go over factors to consider when choosing an AC for a home that's either a part-time home for you or a rental property 365 days out of the year.
Some Factors to Consider
It can be tricky trying to figure out what another person's AC preferences might be. You might feel perfectly comfortable keeping your AC set somewhere in the low to mid-70s. However, someone else might prefer temperatures in the high 60s. Knowing that a potential tenant might really crank the AC is something to consider.
Another important consideration is the size and location of your property. Is it a one-bedroom condo or a large home with multiple bedrooms? Is it in an area that's likely to attract working professionals or is it a popular destination for families with children? How many tenants are likely to stay in your property is another important consideration.
Central Air Conditioners
A central air conditioner is a powerful method of cooling a home. These systems consist of an indoor and outdoor unit. The cooled air is delivered to the rooms of the home via ductwork.
Central AC is an "all or nothing" approach. There's no zone control as the conditioned air is distributed throughout the entire home. Central AC is an economical choice that's easy to install and maintain.
There are AC systems that have variable-speed settings. This provides the ability to run the AC at a lower power level, reducing energy consumption. These units also tend to be more expensive because they're more energy efficient.
If your investment property is a small 1-2 bedroom condo or house, central AC is a solid, budget-friendly option. It'll be able to quickly and efficiently cool down a smaller property.
Ductless Mini Splits
These systems consist of multiple air handlers mounted on the walls and ceilings of various rooms. Their biggest advantage is the zone control that this provides. If you have a property with multiple bedrooms, each guest will be able to adjust the temperature in their own room.
Not only is this an appealing option to potential guests, but ideally this zone control will also result in lower utility bills. Ductless mini splits also use heat pump technology which means they're naturally a more energy-efficient option over central AC.
However, they are more expensive to purchase and install. That's because the air handlers need to be individually installed in each room. Depending on the size of your home, this could increase the costs. Also, maintenance can be trickier than central AC systems.
When it comes to choosing the best AC for your investment property, contact our expert team to answer any questions you may have about air conditioning service in Clearwater, FL.
Contact Bayonet Plumbing, Heating & Air Conditioning to schedule service today!