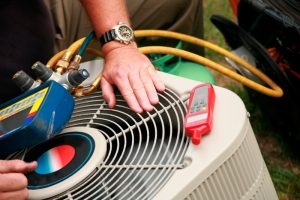 When was the last time you had your car's oil changed? We'd bet that as soon as you hit the mileage on the sticker on your dashboard you took it right in for service. That's because you know that getting the oil changed regularly is an investment not only in how your car runs in the short-term, but how long it'll last in the long run.
So, when was the last time you had AC maintenance? If you can't remember, then it's time to rectify that. Just like a car, your air conditioner needs routine maintenance to run at peak performance. Luckily for you, we have a plan for AC maintenance in Palm Harbor, FL that'll keep your AC running at peak performance.
Why Is AC Maintenance So Important?
Did you know that in Florida, your AC system runs about 2,800 hours every year to keep your home cool and comfortable? Maintenance is the absolute best way to get the most "mileage" out of your AC and here are all the reasons why.
Save Money and Decrease Energy Usage
There are so many ways maintenance saves you money, there are almost too many to count! First of all, you'll save money on your utility bills. That's because an AC that is maintained regularly is one that runs at optimal performance.
During maintenance, your technician will complete a series of preventative maintenance checks. This'll get ahead of any potential issues down the road. In fact, the majority of repairs we perform are on air conditioners that haven't received routine maintenance.
You'll also save money by extending the lifespan of your system. No one wants to replace their AC early because they didn't have it maintained regularly but that's a major potential problem you could run into by not getting maintenance.
Want to be more eco-friendly? Maintenance helps your AC to run as efficiently as possible. That means it'll use fewer utilities and reduce your carbon footprint.
Our Maintenance Plan: The Maximum Value Protection (MVP) Club
What sets our maintenance plan apart is the fact that it maintains both your air conditioning and plumbing systems so that they can perform to peak capacity. Water in Florida is typically hard water which means it's full of minerals that can cause damage to your pipes, fixtures, and tanks. That's why we take care of both systems. Our MVP Club benefits include:
Trust certified technicians (not an outsourced contractor)
Priority service over non-club customers
Fast response and 24-hour/7 day emergency service
Extended appointment times to fit your schedule
Maintain and validate manufacturer warranties
Reduce the risk of costly breakdowns
Maintain safe operation
15% discount on plumbing, heating, and cooling repairs
Inflation protection
Additional discount on heating and cooling equipment
5 Year warranty on any work we do with valid MVP membership
Identify and distinguish all plumbing valves and shut–offs
Establish emergency procedures for home safety and security
No extra fees for after-hours or holiday calls, same MVP prices anytime
Whether you need an tune-up or repair for your AC, our team is here to provide the service you are looking for.
Contact Bayonet Plumbing, Heating & Air Conditioning for air conditioning maintenance today!