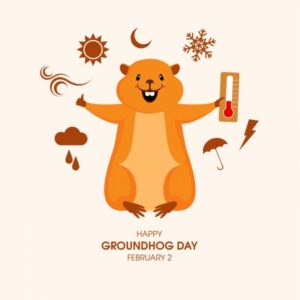 On Groundhog Day this year, Punxsutawney Phil saw his shadow, much to the chagrin of people everywhere. That means we're supposed to get 6 more weeks of winter. But is there any merit to Phil's "prognostications?" Can a groundhog in Pennsylvania really have an effect on how long you'll need to use your furnace this winter?
Let's determine just how accurate Phil's ability to predict the weather is. Since you shouldn't decide on whether or not to call for furnace repair in Clearwater, FL based on whether a groundhog sees his shadow, we'll also discuss the signs that you should do so.
A Quick History of Groundhog Day
The first Groundhog Day occurred on February 2, 1887, in Punxsutawney, Pennsylvania. The German immigrants that settled in Pennsylvania in the 1800s gave the US one of its weirdest holidays.
According to German folklore, if the hedgehog saw his shadow on Candlemas Day there would be 6 more weeks of winter. With the absence of hedgehogs in the United States, the plentiful groundhog, another hibernating animal, was chosen.
Today, ceremonies are held all over Canada and the US with the most famous one of course being the one at Gobbler's Knob in Punxsutawney. The star of the day is the beloved groundhog, Phil.
The Prognosticator of Prognosticators?
Modern tradition states that if Phil sees his shadow (in other words, if it's sunny that day), spring will come early. If he doesn't see his shadow, we can expect 6 more weeks of winter weather.
But just how accurate are Phil's predictions?
Groundhog Day has been celebrated and recorded since 1887 which means there are a lot of predictions to examine. Although the Punxsutawney Groundhog Club maintains that Phil's predictions have been accurate, other sources have disputed this. In fact, the Stormfax Almanac estimates that only 39% of Phil's predictions are accurate. It's a good thing for Phil that he's so cute!
What Can Groundhog Day Tell Us About Furnace Repairs?
Here's a fact about Groundhog Day that you can count on to tell you something about your heating system. Groundhog Day occurs about halfway between the December solstice and the March equinox. That means there are potentially a couple more months left in the heating season, even for Florida.
Six More Weeks of Winter
Although we can't depend on Phil's predictions, you can depend on these signs that mean your furnace needs repairs. Pay attention to any of the following symptoms which may indicate that you should give us a call.
Faulty thermostat: If you turn up the thermometer and the temperature isn't increasing, there could be faulty wiring or thermostat miscalibration to blame.
Short cycling: This occurs when your furnace keeps turning itself off before it completes a heating cycle.
Strange smells: Scents like an acrid scent of burning dust, wires, or electrical parts or the smell of rotten eggs, sulfur, or formaldehyde all spell trouble.
Weird noises: If you hear banging, hissing, booming, screeching, or the sound of metal grating against metal, then your system may be crying out for help.
While Groundhog Day is a cute thing to participate in, when it comes to keeping your furnace running, it is better to leave it to the human HVAC experts.
Schedule your furnace repairs with Bayonet Plumbing, Heating & Air Conditioning.