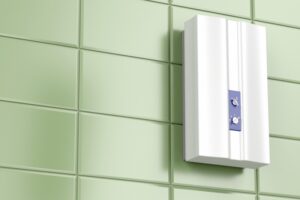 Your water heater is the workhorse of your home. Although here in Florida you rely on your air conditioner heavily in the summer, you need hot water on a daily basis, 365 days a year.
If you've been thinking about getting a new water heater in Brandon, FL, perhaps you've wondered if your home would benefit from a tankless water heater. Although there are decidedly more pros than cons, let's review them both. That way, you can decide if a tankless water heater is right for your home when it's time for a new system.
Tankless Water Heater Pros
Save energy: Are you interested in a more eco-friendly option? Tankless water heaters heat water on demand, they use a lot less energy. A tank water heater is a bit of an energy hog, using electricity 24/7 to keep a supply of hot water readily available.
Save money: When you reduce your energy usage, you automatically lower your utility bills. You can look forward to paying less for utilities each month.
Longevity: Compared to standard water heaters which last 10-15 years, tankless models last longer. That's because they're not subject to the wear and tear that comes from constantly heating and storing water.
Unlimited hot water: Do you hate running out of hot water halfway through a shower? You won't have to worry about that happening again. 
Compact size: They take up less space and can be mounted on the wall, leaving you with more space in your home or garage for storage or other options.
Tankless Water Heater Cons
Cost of unit and installation: A tankless water heater is a more complicated piece of machinery than its tank counterpart. Therefore, the initial cost to purchase will be highe as will the installation. 
The wait for hot water: Since the tankless water heater heats on demand, there will be a slight delay of about 15-30 seconds before hot water will come out of the tap. 
Plumbing modifications: Tankless models may require some updates to your existing plumbing system before they can be installed.
Additional Things To Consider
Although we mentioned you'd never run out of hot water during a shower, there is one caveat to be aware of. Tankless water heaters aren't always necessarily able to keep up with your home's demands for hot water if the demand is too high. This can occur in homes with a lot of household members or if the highest demand for hot water is occurring at the same time each day.
Examining the hot water demands of your home is a good idea before investing in tankless. Consider your hot water usage throughout the day. Do you have 6 family members that need to take showers within a short period of time in the morning? Or is your household smaller? 
Also, do you run the washing machine and dishwasher throughout the day or do these activities tend to coincide with other demands on your hot water system? If you're interested in tankless but concerned about demand, it's always possible to install a tankless water heater and have a small tank water heater as backup.
Contact the experts at Bayonet Plumbing, Heating & Air Conditioning to discuss your water heater replacement options. We'll help you find the best water heater for your home.