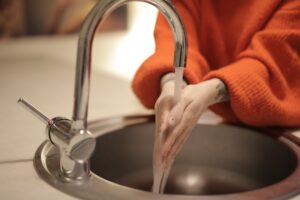 Bathrooms use a lot of water. From toilets to sinks and shower faucets, saving water in bathrooms can seem like it's almost impossible. But with an increasing focus on conservation and making environmentally conscious choices, people are looking for ways to save water and ultimately reduce energy costs.
If you're one of those people looking to make better choices not just for yourself but the planet as well, then upgrading your bathroom is your next step. Efficient plumbing can definitely help you save water.
Upgrade Your Bathroom Plumbing
Replacing Showerheads
Before replacing showerheads, you may want to check for debris that may have accumulated in your showerhead. Clean it out so that you may receive unrestricted water flow. This is a great thing to do for your home, however, the best upgrade you make in your bathroom is to install a low-flow showerhead.
A low-flow showerhead has flow rates of 1.5 or 1.0 gallons per minute. This is significantly lesser than a standard showerhead, which is why it can help conserve water. If you really want to change your bathroom plumbing efficiency, then there are ultra-low flow showerhead that you can install. Ultra low flow showerheads have a flow rate of 0.5 gallons per minute.
Ditch the Bathtub
A nice soak in the tub is a great way to end a tiring day. Did you know that a standard bathtub uses 60 gallons (27 liters) of water if fully filled? If you're looking to save water significantly, then ditch the bathtub. If you have one currently, maybe cut down on its usage.
Install a Low-flow Toilet
Low-flow toilets use 1.6 gallons of water per flush. This is lower than the standard toilet, which uses 3.5 to 5 gallons of water per flush. If you have many bathrooms, using a standard toilet leads to water wastage that you can curb with an efficient alternative.
Upgrade Water Pipes
Leaky water pipes are a hassle because they contribute to water loss but also damage other things in the bathroom, such as your vanity cupboards. Call a plumbing expert if you sense your bathroom has a leaky pipe. They may suggest you replace part of the pipe and not the whole thing. You will have to be vigilant to be sure if your bathroom pipes are leaking. We'd suggest either taking a water meter reading or closing all faucets to locate the leak.
Dual-Flush Toilets
A dual-flush toilet has two options for flushing. One is used for liquid waste and the other for solid waste. You can use either of the two levers depending on your need. Since liquid waste uses less water, you can save a lot of water by using this option.
Need Help?
Are you looking for a trustworthy company to upgrade your bathroom plumbing in Wesley Chapel, FL? Look no further as Bayonet Plumbing, Heating & Air Conditioning can solve all your plumbing problems. Visit our website or call us to book an appointment.
Sign up for a hassle-free experience backed by excellent customer reviews. Make the upgrade today!