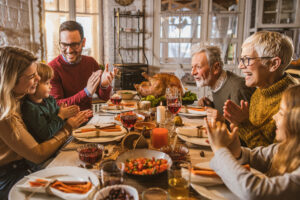 Thanksgiving is just around the corner and that means you'll need to depend on your drains more than any other time of year. Why is that, you might say? Well, one of the busiest days of the year for plumbers is often the day after Thanksgiving. Drains that haven't been well maintained can become overwhelmed by the demands of Thanksgiving feasts and extra guests in the home.
You don't want your Thanksgiving dinner with friends and family to be ruined by a flooded kitchen sink or stinky, partially clogged drains. When you have our expert plumbers in for drain cleaning, it's one less thing to worry about and you can rest assured that your plumbing won't give you any issues. We'll leave the cooking and entertaining to you–you can leave the drain maintenance to us.
What Is Drain Cleaning and Why Is It So Important?
Your drains need routine maintenance and inspections the same as any other major system in your home such as your HVAC and water heater. Preventative drain cleaning is what we recommend for drains that don't have immediate clogging issues.
Professional drain cleaning uses tools such as a hydro jet and motorized drain auger to clear debris in your drains. In the kitchen, it gets rid of things that can accumulate such as cooking oils, coffee grounds, food scraps, and anything that over time collects in your pipes to slow down drainage or stop it completely. In the bathroom, drain cleaning clears things in your drains that might impede water flow such as soap scum, hair, dirt, and toilet paper buildup.
What Are Other Advantages to Drain Cleaning?
Preventative drain cleaning not only removes all buildup from your drains, but it makes it difficult for the buildup to start again. It also preemptively protects your drains from the damage that can occur because of buildup. For example, soap scum can cause a chemical reaction that corrodes metal pipes. Soap scum also attracts mold and mildew and can become a health hazard when it acts as a host for bacterial growth in your plumbing system.
Drain cleaning extends the lifespan of your drains too. The buildup of chemical deposits on the inside of your drains can lead to corrosion. Having your drains cleaned by a professional prevents leaks from forming in the first place.
Professional Drain Cleaning Is Better Than Chemical Drain Cleaners
It may seem like a good idea to use a DIY chemical drain cleaner. However, we don't recommend this as it can actually be much worse for your drains in the long run.
Drain cleaning products from the hardware store will eat away at one or two substances but usually can't clear away all the buildup. These harsh chemicals also eat away at the integrity of your pipes.
The Gift of Clean Drains For the Holidays
Yes, we know the thought of plumbing services isn't the first thing that comes to mind when thinking about gift ideas for the holidays. But, ensuring the reliability of your plumbing system really is a gift. Our plumbers know exactly how to clear away the debris in your drains.
Contact Bayonet Plumbing, Heating & Air Conditioning today to get started on drain cleaning in New Port Richey, FL for your home.