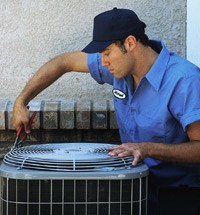 No one enjoys being late to anything: the game, work, school, etc. So when you find out that the ideal time for something has passed, many people may be tempted to forget it altogether. Air conditioning maintenance is one of those things that is oft-forgotten and then sadly skipped.
We are happy to tell you that, if you missed your usual maintenance appointment for your air conditioner this spring, all is not lost! Late maintenance is better than no maintenance at all so if you still need your yearly AC tune-up in Riverview, you can reach out to us whenever you are able to.
Not sure if maintenance is worth your while? Let's explore how this annual service benefits your comfort and your bills.
What Does Maintenance Entail?
Air conditioning maintenance isn't going to be as intensive as a system repair but that is a good thing. This is because this service helps to prevent future problems from occurring too often. Maintenance is going to include the process of cleaning, adjusting, tightening, and optimizing your system overall so it doesn't feel as much wear and tear after a season of use.
How Does a Mere Tune-Up Help Me?
A tune-up may not seem like it does much but the benefits are big! Here is what you will enjoy when you schedule maintenance services, even if they are late.
Fewer repair needs in the future: Maintenance is going to catch small issues while they are still small, such as loose bolts or a filter than is getting too dirty. During the tune-up a technician will address these small problems so they aren't left to become repair needs over time.
A longer overall system lifespan. By addressing smaller issues and preventing repairs, it is going to help your air conditioner last longer too. This means rather than barely making it to 10 years of use, your system will make it past that minimum mark and stretch to 15 years of use.
Better energy efficiency: When your system doesn't have to struggle past small problems within it to cool your home, it means it will enjoy improved energy efficiency because it won't have to use extra energy to get the job done.
Improved cooling effectiveness: Maintenance is going to help your air conditioner operate more effectively which means it will help keep your home cooler. This is because it won't have to deal with potential problems like low airflow from a clogged filter or problems with a blower fan because of a loose bolt.
As you can see, maintenance is going to be extremely helpful in keeping your air conditioner in good condition and will help keep you cool too. Even better it can be made better with the perks of our maintenance program, the Maximum Value Protection Club, such as priority service, discounts on repairs, 24/7 energy services, and more.
Contact Bayonet Plumbing, Heating & Air Conditioning for service from a team of professionals you can trust. We will help keep you cool when it matters.