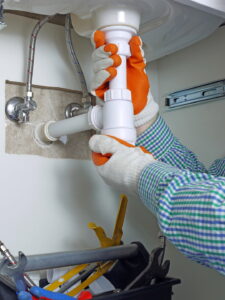 Re-piping your whole house can be a difficult task. Apart from that, it costs a considerable sum of money. Therefore, you need to know whether you need a minor repair or the entire piping system in your home must be replaced.
If you detect any of the problems listed below, there's a strong likelihood that you are due for a re-piping in your home. Our recommendation would be to take help from a professional in such cases.
1. Aged Pipes
The practical life of your home's pipes depends on multiple factors such as wear and tear, weather conditions, and so on. Nonetheless, as a ground-rule, you should replace your pipes once they are older than 50 years or more.
Also, some materials are unsafe innately. For instance, pipes made from lead are dangerous for your health. Such pipes should be replaced immediately.
If your house was constructed in the 1970s, chances are that the piping is old and eroded. In this case, it is better to start looking for replacements before you start running into problems. Moreover, if you hear strange sounds such as clacking, rattling, or clanging, it is a major sign that there is a problem with your house's piping system. In such cases, you need to start considering when to replace pipes in your home.
2. Leaking Pipes
Regularly leaking pipes indicate that you need to re-pipe your home. Although you might be able to patch a leak the first time it happens, repeatedly doing so is not feasible or safe. Make sure not to confuse leaking pipes with hot water pipes that have condensation over them.
A consideration you should keep in mind when deciding to patch your pipes instead of replacing them is the cost of repairs in case the pipes burst and cause water damage in your home. It is better to get all the piping in your home checked in case you encounter a leak.
3. Visible Corrosion
If the pipes in your home have flaking, stains, discoloration, dents, or rust, it is evidence of corrosion. This would be the right time to start considering when to replace your pipes as repairing corroded pipes can compromise their structural integrity.
Corroded pipes are also much more likely to cause a leak, which is more reason to change them as soon as possible.
4. Low Water Pressure
Although there are several reasons why you might have low water pressure, the most common cause is sediment buildup and corrosion in your pipes. This leads to water blockages and unwanted strain on different parts of the pipe.
If you experience lower than average water pressure in your sink, shower, or dishwasher, it may be a signal that your pipes need to be replaced.
5. Discoloration of Water
If the water coming into your home has a red, yellow, or brown tint to it, chances are that the pipes in your home have become rusty or are affected by sediment. This is the time when you should start thinking about when to replace the pipes in your homes.
One thing to bear in mind is that if you only face this problem when hot water is running, the problem may be with your water heater.
6. Water Tastes or Smells Bad
If the drinking water in your home has an unusual taste or you experience an odd smell coming from the water in the shower, it may be because of the plumbing pipes rotting away. If you can't drink water from the tap, you should consider changing your pipes.
Wrapping Up
Neglecting the health of your home's piping system can come back to bite you in the long run, leaving you stranded without water. Therefore, we recommend repairing and replacing them when needed.
If you live around Brooksville and need to re-do your pipes, contact Bayonet Plumbing, Heating & Air Conditioning for a plumber in Brooksville, FL.