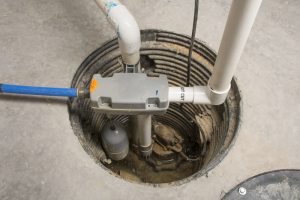 Is your home protected if there is a problem with floodwaters in the area? Whether it is due to a rainstorm oversaturating the ground or a busted pipe letting water leak into your home, you want to avoid the problems that can result from that excess water flooding your home.
Thankfully, there is a system that can help to protect your house. You have the option to add a sump pump to your home to help protect your property from the adverse effects of leaks and other flooding problems. Our team is here to help with your sump pump installation and any other system services you may need.
For starters, we'll give you all the information you need to know about a sump pump.
How is a sump pump set up?
A sump pump is a plumbing device that helps to remove excess water that would otherwise get into your home. The "sump" refers to a pit dug into the ground where the "pump" is placed. In some homes, the pump may be next placed next to the pit.
When does a sump pump operate?
When water starts to get into your property, it will fill that sump pit and then trigger the pump to turn on. The pump will pull the water out of the pit and siphon it into the wastewater system. This applies in all situations when wastewater might otherwise get into your home, from flooding during a storm to a burst water line.
How a sump pump protects your home
A sump pump is a vital system to help protect your home. The entire point of this system is to help protect your home from excess water intrusion.
Let's say that you have an undetected leak in your plumbing that is letting water collect in your home. While you wait for our team to provide you with a plumbing repair in Pasco County, FL, this system works hard to siphon excess water out of and away from your home.
This means that this system is going to reduce the risk of water damage, staining, mold and mildew growth, and more.
Do sump pumps need expert upkeep?
Much like every part of the plumbing, you will want to make sure that you work with a team of experts to keep your sump running properly. A sump pumps and the connecting pipes need maintenance at least once a year ensures that the pit is cleared of any major debris that would hinder drainage. Additionally, sump pump repairs can help address bigger problems such as pipe leaks, major clogs, or even a pump that isn't responding anymore.
We Provide Expert Plumbing Work
The team at Bayonet Plumbing, Heating & Air Conditioning is proud to offer the full range of sump pump services that you might need, from installation to repairs and even replacement of an old sump pump. And that isn't all we can do. We can help patch leaks, clear clogged pipes, and more.
When you need expert plumbing services, you can contact Bayonet Plumbing, Heating & Air Conditioning.