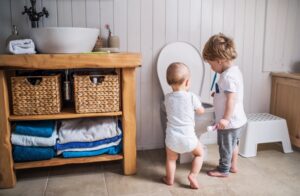 Sometimes handling a clogged toilet is simple. All you have to do is grab the plunger and use some elbow grease and things start flushing fine again in no time. Unfortunately, this isn't always the case. There are times when toilet clogs are going to be harder to deal with if not impossible to deal with. That's where we can help.
Maybe your toddler decided to flush half roll of toilet paper or see if their favorite stuffed animal could go for a swim. Or perhaps there is some deeper issue that is causing problems with your toilet. When the plunger just isn't cutting it, it is better to reach out to a professional to get the issue addressed properly. Our plumbers can find and address the root cause of your toilet problems–especially if it turns out to be roots in your sewer line.
Common Causes of Immovable Toilet Clogs
Okay so we all know what causes the most common clogs in a toilet but this isn't going to be the only problem your toilet runs into. It may have trouble originating from other more stubborn causes. This can include:
Flushed items that shouldn't have been flushed. We'll start here because we run into this one plenty of times all year long. It is one of the most common problems for toilet plumbing in Palm Harbor, FL. It might be a toy or a stuffed animal or your car keys (we know, we shudder at the thought to). Not only does this cause problems for a toddler you suddenly realized that the item they flushed is no longer available, but it is also going to clog, and can even damage your drainpipes.
Pipes that are just too small. If you live in a home that is on the older side the pipes may not have been updated anytime in recent years. this may not seem like a problem but it certainly can become one. If you have a home full of people then smaller pipes may not be able to handle everything that goes down the toilet. This can lead to more frequent clogs which wastes a lot of time.
A deeper issue in your sewer line. Another possible cause of your toilet trouble may originate deeper down the drainpipe. If there is an issue within your sewer line it is going to be impossible to remove it without professional help. From a larger sewer line clog to a root invasion you will want to turn to a professional plumber who can address the issue head-on with the appropriate tools.
How We Get Things Flowing Again
When you have problems with your toilet, you will want to come to our team for assistance. We can use a drain snake or hydro jet to clear stubborn clogs and even remove that figurine from your drain. In more serious cases when the trouble is with your sewer line, we have the tools and training to handle that too.
Contact Bayonet Plumbing, Heating & Air Conditioning to schedule assistance for your toilet plumbing today.