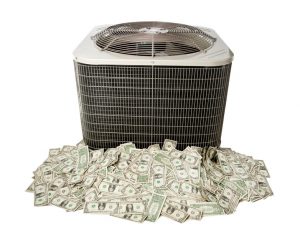 Investing in a new air conditioning system may not be the most exciting way in which to spend your hard-earned money, but it is definitely one of the most important investments that you'll make in this part of the country. We have a lot of hot and sunny weather around here, but we also have a lot of weather that is so hot and sunny, not to mention humid, that it is simply uncomfortable.
You absolutely need a great whole-house air conditioning system in Brooksville, FL. Otherwise, you are not going to live in the comfort that you deserve. Now, there are a lot of great air conditioners on the market today, and our technicians will make sure that yours is properly tuned up on an annual basis to ensure that it operates as reliably as possible. At some point, however, even the best and most well-maintained ACs are going to need replacing. Has that time come for you?
Is Your AC Getting Up There?
One of the major factors to consider if you're thinking about replacing your air conditioning system is the age of that system. Many systems that are well-maintained will actually wind up lasting longer than their projected lifespans. However, the fact that an AC can be kept up and running does not necessarily mean that it is worth it to keep that system up and running any longer.
You may be missing out on the higher efficiency ratings and improved performance quality that newer systems have to offer. The fact that your system is old doesn't  necessarily mean that it needs to be replaced, but you don't want to wait for a complete breakdown before replacing it,  either. At the very least, keep age in mind when considering these others factors.
Operating Costs
We mentioned the fact that efficiency levels have risen over the years above. This is a very big consideration if you are deciding whether or not to replace your air conditioning system. We are not occasional air conditioner users in this area. We use our air conditioners almost constantly, and a low efficiency rating can really lead to huge operating costs.
Maybe you bought a relatively low rated system in order to save money at the time of purchase, or maybe you simply have a very old system that is no longer capable of working as efficiently as it once did. Whatever the case may be, spending the money on a higher rated system now can save you money in the long run.
Repair Needs
There is no point betting against the heat around here. It's a part of daily life for most of the year. Why would run the risk of betting on an unreliable air conditioner, then? If your AC requires frequent repairs, even if it is not all that old, then you should definitely think about replacing it.
You're not going to buy a new AC every time you run into operational problems, obviously. But again, the fact that a system can be repaired does not mean that it is necessarily worth repairing. If in doubt, contact a member of our team for the truthful advice that you need regarding the state of your air conditioner.
Bayonet Plumbing, Heating & Air Conditioning is here for your  AC service needs.