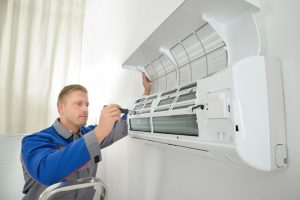 You have an air conditioner that is supposed to keep your home cool. However, things haven't been going the way they're supposed to. You already got your AC system tuned up in the spring so it should be working properly but it isn't and now you are wondering why. Chances are, you have an AC that needs repairs.
Now, figuring out when you need repairs is one thing. Choosing who is going to perform those repairs is another. If you need someone to help with your AC repairs, it is best to get help from a Brandon air conditioning contractor rather than trying to do it yourself. Let us explain why.
We know that some people may hesitate over the idea of hiring a professional simply due to the higher cost. We can understand this but we can promise that it is well worth every dollar spent. Here is why.
1. Professionals are licensed and certified.
When a professional technician arrives at your door they should be able to prove they have the background necessary to get the job done right. Professionals are both licensed and certified to do their job, thanks to the extensive training they go through, and should be able to offer proof of this upon request.
2. A trained technician will uphold, rather than break, your warranty.
If you have a system that is still under warranty, you certainly want to uphold that warranty. A professional knows how to uphold and maintain your warranty when they work on your air conditioner. An amateur can't offer this guarantee and is likely to void the warranty which leaves you paying more in the future–not to mention that is less coverage for the repair just performed if that amateur ends up messing things up further.
3. Pros come with the tools necessary to complete the job.
Have you ever gotten into a project only to discover that you don't have the tools necessary to complete it? This is frustrating, to say the least–and it is even worse when you encounter this problem when trying to fix up your air conditioner, especially if there is someone else using up your time and money to make that hardware store trip. You won't have to worry about this with a professional from our team. We show up with whatever is needed to get the job done.
4. Repairs are made done correctly and quickly.
All that training that a professional undergoes pays off in your favor. They are able to assess most systems on the market and identify the core problems that they are dealing with. They know exactly what to look for and how to fix anything that isn't working right. This is a far better situation than dealing with an amateur who is guessing at what is wrong. We're precise and can help you figure out what repair work is necessary.
Looking for a team of trustworthy professionals for your next HVAC system service? Contact Bayonet Plumbing, Heating & Air Conditioning to worth with some of the best experts in the area.