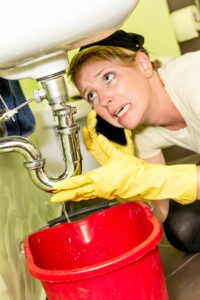 Planning to whip up dinner for your significant other this Valentine's Day? Or maybe you are hosting a little get-together with your friends for a Galentine's Day. Whatever your plans are, you are hopefully excited. And the last thing you want is to have your hard work ruined by a backed-up drain!
Clogs are never fun to deal with even on days when you don't have much going on. They are even worse when they pop up at crucial moments. But before you rush for the chemical drain cleaner under the sink, let us tell you about a better option to solve the issue: drain cleaning in Spring Hill, FL.
Drain Cleaning Offers a Real Solution
When you encounter a clogged drain in your home, whether it is with your toilet, shower, or kitchen sink, the sooner you get it cleared the better off you'll be. A chemical drain cleaner can seemingly offer a quick solution but the reality is quite different. Chemical cleaners can actually cause more problems than they solve.
With a drain cleaning service though, you can solve your problem and even save yourself some stress in the long run. We provide drain cleaning services to residents in the area for a reason. Here are some benefits to adore about this service.
It fixes the problem on hand and prevents future issues, too. Drain cleaning uses tools and techniques that address the clog in an effective way. This means that the clog is immediately cleared and in some cases, this service can even clear additional debris out of the drain which prevents future issues.
It doesn't harm your drains or your wellbeing. One of the worst parts of using chemical drain cleaners is that they only provide a minor solution (if you are lucky) but are very likely to harm your pipes. These caustic chemicals can damage and eat through your pipes over time. This means that they can be harmful to your health too. Drain cleaning is able to circumvent these dangers and provide a better solution too.
It is extremely effective at clearing clogs. Drain cleaning can involve the use of a drain auger (snake) or hydro jetting to take care of the issue. Drain snakes are great to either pull a clog out or break it apart. On the other hand, hydro jetting blasts away the clog with a high-powered stream of water. These are solutions that will take care of the clog without fail.
As you can see, drain cleaning is a great solution when it comes to nasty, stubborn clogs that are backing up your plumbing. You don't want to be dealing with a kitchen sink that is imitating a bucket when you'd rather be focusing on spending time with your loved ones. You can schedule drain cleaning with our team to address drains that are slowing down and may encounter a full clog in the near future.
Whether it is drain cleaning to help prevent a full clog or to deal with a completely stopped drain, you can turn to us. Contact Bayonet Plumbing, Heating & Air Conditioning to clear your drains.