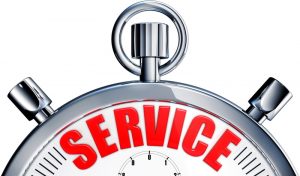 Keeping your air conditioning system in good condition is important especially when you live around here. Temperatures and humidity can join forces to make conditions unbearable for days or even weeks at a time during the height of summer. It is in your best interest to do anything possible to help your AC do its job effectively and efficiently. One of the best ways to help your system is to schedule HVAC maintenance in Clearwater, FL.
Think it is too early to get your maintenance taken care of? This couldn't be further from the truth. Early maintenance is a great way to invest in your comfort and your peace of mind. Let us tell you a bit about why you should consider knocking out AC maintenance sooner than later.
5 Reasons to Knock Out AC Maintenance Early
Maintenance is usually something that people knock out in spring. So why get this service done early? Because you can still benefit from it and it can help get one more thing off your plate before summer. Here are five key reasons to get your tune-up taken care of ASAP.
It improves system efficiency. Scheduling maintenance on an annual basis for your air conditioner can help it operate more efficiently. This means your system will be able to do its job without pulling extra energy.
It reduces the chances you need repairs. Maintenance can address problems like loose parts or a dirty filter while they are still small. This prevents them from escalating into repair needs.
It can help improve your comfort. Getting maintenance done on schedule helps improve the operation of your AC system. This means it will be better able to keep you cool when it counts.
It helps you save money. Improved system efficiency and effectiveness can help reduce the amount of money you need to spend on keeping your home cool. This service also helps you save extra cash by reducing repair needs and ensuring that your system replacement is further on down the line than it would be otherwise.
It can save you time. Knocking out this service early helps you avoid a longer wait time that may occur later on in the season when more homeowners are scheduling their tune-ups.
Trust Us to Take Care of Your Maintenance Needs
You can come to our team to get your maintenance needs knocked out at any time. Our goal is to help keep you as comfortable as possible. Another way that we look out for your comfort is by offering our customers added benefits through our Maximum Value Protection Club. This is our maintenance program that can offer added perks like:
Priority service scheduling
24–hour/7 days-a-week emergency service
Extended appointment times
15% discount on plumbing, heating, and cooling repairs
Inflation protection
Additional discounts on system equipment
5 Year Warranty on any work we do with valid MVP membership
NO extra fees for after-hours or holiday calls
If you are looking to guarantee your comfort this summer, come to our team.
Schedule your tune-up with Bayonet Plumbing, Heating & Air Conditioning.