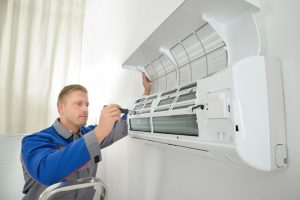 Here in Pasco County, we saw our usual hot summer. As we get deeper into winter, the temperature can drop down quite a bit. You want to make sure that your heat pump system is up to whatever task is presented by the weather. This includes keeping you warm during even a mild winter season.
If there is a problem with the heat pump, not only can it cost you in repairs to the entire system, but it can cost you in excessive utility fees throughout the year. Head this issue off early. Schedule your heat pump repairs in Pasco County, FL today if you notice the warning signs.
If you have a problem with the heat pump, it is important that you get a professional on-site as quickly as possible to repair the problem. But how do you know if you have a problem with your heat pump? Here is a list of some of the signs that may come up if there is a problem:
Odd noises. Your heating system is guaranteed to make some noise while operating. Signs of a problem include banging, clanging, grinding, or screeching. All these noises suggest that the system is not working as well as it should be and should be looked at as soon as possible to avoid a potential breakdown.
Bad smells. If you suddenly smell something when the unit is turned on, that is a sign that there is something wrong with it. Also, if you or anyone in your family starts to sneeze or cough, that can be a sign that the unit is releasing allergens or dust into your home. The best way to solve the problem is to have a professional come in and look.
Poor heating and/or weak airflow. You would be amazed at the number of people who suffer with systems that fail to heat certain areas of the home. Hot air is not pushed through, or worse, cold air is coming out of the vents when the hot air is turned on. There might be a problem with your circuit breaker, or the problem could be more serious, and you should check the heat pump.
High energy bills. Are your bills much higher than they have been in past years? Are your bills higher than your neighbor's, who has roughly the same layout? If the cost of heating your home has gone up dramatically, it could be that your heat pump isn't working as efficiently as it should. A visit from a heating professional can be the solution.
Short cycling or nonstop cycling. You know that sound of the heating unit cycling when you turn it on. If that cycle starts for a moment, stops, then restarts, and then repeats that sequence—or if the system simply doesn't bother to start the cycle when you turn on the heat, you have a problem that needs to be looked at.
If you are experiencing any of these problems, give us a call. Even better, if you aren't experiencing these problems and never want to—if you want your heating pump to function problem-free—call us.
We provide 24/7 emergency services throughout the area. Contact Bayonet Plumbing, Heating & Air Conditioning today for your heat pump repairs.